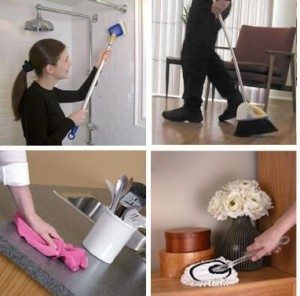 Any rental contract comes with the condition to clean the house and leave it in the situation before it was rented. In the hustle and bustle of leaving a rental property, cleaning it completely definitely makes the process even more complicated. It might look to be a simple contract but when one actually faces the reality, the requirements of the landlords might be rather stringent and the task might become painful.
Our cleaning agency is called Cleaners Mayfair and delivers professional end of tenancy cleaning services in Mayfair, W1 London. You may use our cleaning professionals to deep clean your property. Our move out cleaning solutions cover all areas of your house or flat. We give 48 hours of guarantee for this service. It means that we will send our team to re-clean your property for free if the landlord is not happy with the standard of cleaning.
The cleaners that will clean your property have an industry experience of more than 10 years which brings in expertise and professionalism. They are equipped with the best cleaning tools and have the necessary skills to use them well.
Kitchen Cleaning
Removal of all grease and grime
Cleansing of kitchen drawers, shelves, cupboards, dishwashers and washing machines
Stainless taps and sinks
Cleaning of kitchen utensils and articles like refrigerator, microwave etc.
Floor and Surface Cleaning
Bathrooms & Toilets:
Clean & sanitize bathroom articles like mirrors, windows, sanitary ware, sinks, shower
Scrubbing and sanitization of floors and tiles
Living Room, Bedrooms and Dining Area
Cleansing and polishing of doors and windows, skirting boards etc
Dusting and Vacuuming of furniture and articles
We also provide special cleaning services that can also be combined with our carpet or upholstery cleaning for a completely renewed look of the house at a very small additional cost.
About Mayfair
Mayfair
Mayfair has become an attractive location away from the City of London for private banks, hedge funds and wealth managers. The Egyptian Education Bureau, is located in Chesterfield Gardens. EasyGroup has its head office in Mayfair. The renown and prestige of Mayfair could have grown in the popular mind because it is the most expensive property on the British Monopoly set.
Shepherd Market
Shepherd Market is a small square in the Mayfair area of central London. Shepherd market is a charming small square and piazza developed in 1735-46 by Edward Shepherd. This tiny little enclave is tucked away between Piccadilly and Curzon Street, in the exclusive borough of Mayfair. Nowadays, Shepherd Market is better known for its chic boutiques, intimate little restaurants and impressive Victorian pubs.
Haymarket
Haymarket is a street in the St. James's district of the City of Westminster, London. The broad street connecting Pall Mall with Piccadilly is recorded in the Elizabethan era and, as the name suggests, was chiefly used as a street market for the sale of fodder and other farm produce. At that time, it was a rural spot, with the village of Charing, the closest settlement.
Crown Estate
In the United Kingdom, the Crown Estate is a property portfolio owned by the Crown. The Crown Estate is one of the largest property owners in the United Kingdom with a portfolio worth £7.0 billion, with urban properties valued at £5.179 billion, and rural holdings valued at £1.049 billion; and an annual profit of £230.9 million, as at 31 March 2011.